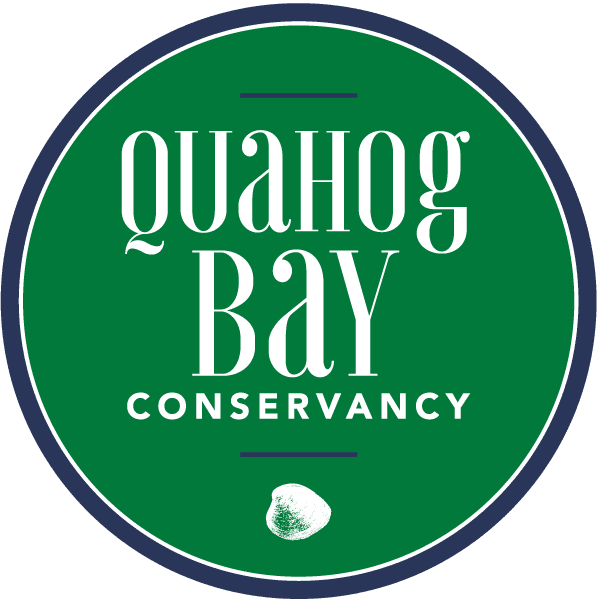 Our Bay.
Our Responsibility.
The mission of Quahog Bay Conservancy is to revitalize the ecosystem of Quahog Bay to a robust and resilient state for all communities that depend on it. Through sustainable aquaculture, ecosystem monitoring, and community education, we aim to conserve natural habitat, protect native wildlife, foster environmental stewards, and support Maine's working waterfront.
LEARN MORE
TEXT/CALL (207) 522-1105. QBC offers free on-call pump-out service to any boats anchored in Quahog Bay.
Purchase Snow Island Oysters and support Quahog Bay Conservancy's programs to protect Quahog Bay.
Your donation supports QBC's mission to revitalize Quahog Bay for all communities that depend on it.
Surrounded by the rugged coast of Harpswell, Quahog Bay captures the rough, authentic charm of mid-coast Maine. Depending on the phase of the moon, tides measuring seven to 12 feet sweep cold, nutrient-rich waters in from the open Atlantic. The ebb and flow sustain a vital and productive marine habitat that is home to a diverse array of fishes, seabirds, and shellfish.
For many generations, the waters of Quahog Bay have provided a living for commercial fishers and their families. The bay has also attracted countless recreational fishers and outdoor enthusiasts, all of whom enjoy the beauty of this unique place.
In recent decades, pollution, neglect, and a changing climate have introduced new threats to our delicate seascape. Quahog Bay Conservancy (QBC) is tackling these critical issues head-on in an effort to support the ecosystem and the families that depend on it. We do this through sustainable oyster aquaculture, ecosystem monitoring, and community education.
Quahog Bay has been a significant place for our president, Patrick Scanlan, since his early childhood. Patrick's uncle purchased Snow Island in the mid-1960s. Growing up, Patrick worked seasonally on the island, creating formative memories of digging for clams, eating fresh seafood, and enjoying the beauty and solitude of the seascape. He felt a deep sense of loss when his uncle sold Snow Island in 1998 to the legendary sailor Dodge Morgan.
Patrick and his wife Mary were eager to return to Maine to build new memories with their children. When Snow Island came up for sale in 2008, they jumped at the chance to repurchase it for their family.
During their first summer back on Snow Island, Patrick noticed a stark decline in the health of the ecosystem since his childhood. In 2011, the water was extremely polluted: E. coli was present in alarming amounts, and fisheries were shut down. Patrick and Mary knew they had to do something about it. Together, they began removing the island's antiquated septic systems, which discharged into the bay. To help manage boat discharge, they received a grant from the state for a septic pump-out boat, and began to offer pump-out services on demand to local boaters. Around the same time, they began testing the water and removing marine trash. These actions alone were enough to help mitigate decades of environmental damage, and the bay was opened back up to shellfish harvesting after 30 years of summer closures.
Knowing they could do more for the ecosystem and the working waterfront, Patrick and Mary established QBC in 2015 as a 501(c)(3) nonprofit. They hired a capable team, and since then, QBC has implemented six targeted programs that support the ecological health of Quahog Bay.
A Message from Our Founders
Dear Friends,
On behalf of everyone at QBC, thank you for your interest in our action-based nonprofit committed to revitalizing the marine ecosystem of Quahog Bay. Our mission is ambitious but achievable—to restore the bay to a robust and resilient state for all communities—human, wildlife, and marine—that depend on it.
Our story is simple. We wanted to dig for clams in our ocean backyard, but the bay waters were so polluted that shellfish harvesting had been shut down for decades; even swimming was considered unsafe. We were distressed, but we knew this was a solvable problem and we were determined to reverse the damage.
We are fortunate to have resources that allow us to make a significant impact—so we devised a plan that removed pollutants at their identifiable source and invested in long-term solutions to bring life back to these once-rich waters. In 2014, we removed ancient septic systems from Snow Island and helped other shorefront homeowners do the same. We then received a grant from the state for a pump-out boat, and that same year, we cleaned and opened the bay to clammers and other shellfish harvesters.
Watching the improvements our work produced was rewarding and exhilarating. However, we knew there was more to do. In 2015, we established QBC as a nonprofit with 501(c)(3) status. Since then, we have had the privilege of undertaking initiatives designed to revitalize the ecosystem and serve our coastal community in meaningful ways.
It is an honor to lead this organization as it accomplishes the essential work of preserving the bay's natural habitat, protecting native wildlife, fostering environmental stewards, and supporting Maine's working waterfront.
We hope you will find useful information as you browse our website, and we invite you to follow us on social media and attend our events to learn more. We look forward to sharing our passion, commitment, and innovative approach to conservation.
See you on the water!
Mary & Patrick Scanlan
Founders
Trust plays a key role in building our relationship with those who share our passion for this work. As a 501(c)(3) nonprofit, QBC is deeply committed to accountability and transparency. Our IRS Form 990s for the last several years are available below and on Guidestar. We do this to ensure that our donors, partners, and the public can learn more about how we bring in revenue, how we invest it in the bay, and the overall efficiency of our operations.
Please review these frequently asked questions and reach out to us if you have questions not addressed here:
How does QBC fulfill its mission?
QBC seeks to revitalize the ecosystem of Quahog Bay to a robust and resilient state for all communities that depend on it. We do this through sustainable oyster aquaculture, ecosystem monitoring, and community education. Our goal is to conserve natural habitats, protect native wildlife, foster environmental stewards, support Maine's working waterfront, and partner with like-minded organizations and individuals.
The conservancy uses an ecosystem-based approach, implementing six complementary and innovative programs that focus on mitigating contamination and sustaining the bay for fishing and recreational use. The six programs are Sustainable Oyster Aquaculture, Invasive Species Removal, Water Quality Monitoring, Pollution Remediation, Marine Debris Removal, and Education & Outreach.
How is the QBC funded?
QBC is a registered 501(c)(3) public nonprofit organization. While the Scanlan family invested the initial capital, the organization is sustained by a dual revenue stream. QBC is funded in part by generous individual donors, private foundations, and state grants. The balance of our revenue comes from QBC's sustainable oyster farm, which grows hundreds of thousands of oysters each year, selling them to restaurants and wholesale buyers.
The donated funds and 100% of the proceeds from the sale of Snow Island Oysters go to QBC's programs, ensuring that we protect the ecological integrity of the bay on behalf of all communities that depend on it.
Our Annual Reports
Our IRS Form 990s
Where do the earnings from Snow Island Oysters go?
100% of the proceeds from our oyster sales are reinvested into our conservation work in Quahog Bay. Our six programs are Sustainable Oyster Aquaculture, Water Quality Monitoring, Invasive Species Removal, Pollution Remediation, Marine Debris Removal, Education & Outreach.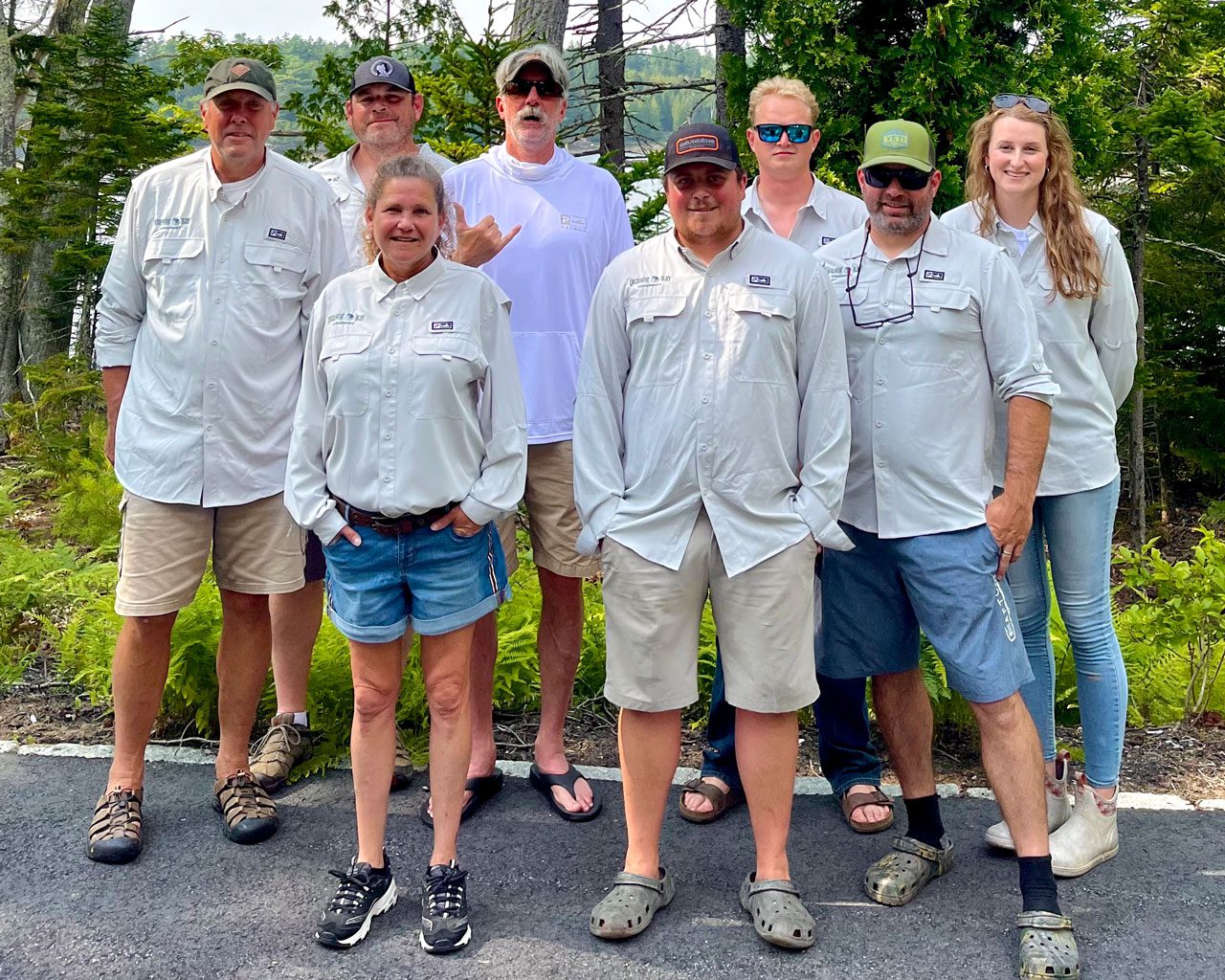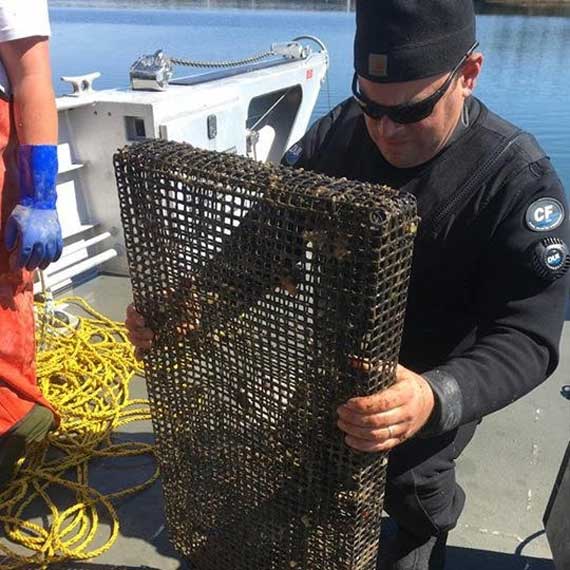 Dave Hunter
Director of Operations
Dave has been with Quahog Bay Conservancy since its inception in 2013. Born in Brunswick, raised in Harpswell, Maine, an area that he still calls home with his wife Kristi and their two daughters. Dave's fondness of the ocean started at a young age and solidified while working as a sternman on lobster boats and exploring the seemingly endless miles of Maine's coastline during summer breaks in college.
Dave felt a calling to public service, motivating him to study conservation law at Unity College and then attend Southern Maine Community College to study fire science. This prepared him to join the Brunswick Fire Department as a firefighter and Emergency Medical Technician in 1998. Eighteen years later, Dave still is motivated by that beckoning call to public service and serves as a Captain for the fire department. In addition to Dave's academic and professional accomplishments, he is a licensed Coast Guard Captain, certified Advanced SCUBA diver, Advanced Emergency Medical Technician, High Angle Rescue Technician, and Confined Space Technician, and Hazardous Materials Technician.
Dave is a motivated, dedicated individual that is always on the go and looks for positive results as a measure of success in any project he takes on. As the Manager of Operations for Quahog Bay Conservancy, he aims to protect the Bay from pollution and invasive species while furthering the production of different aquaculture projects. Additionally, Dave believes one of the biggest challenges to the health of the Bay is the risk of overboard discharge from recreational boaters. This is because the high concentration of sewage from even one boat can release enough bacteria to close the Bay to shellfish harvesting and cause a range of ecological and human health problems. Dave and his colleagues at the Conservancy work to overcome this hurdle through the introduction of the Conservancy's free pump out service and by educating boaters on the dangers of overboard discharges.
Dave is a skilled boat handler and views everyday on the job as a new learning opportunity. Plus, who could complain about having an area as beautiful and dynamic as Quahog Bay as an office? Witnessing the different uses of the Bay, whether it is watching bald eagles fishing, recreational boaters exploring, and lobsterman hauling traps all in one shared area serves as a source of continual inspiration for him and a reminder as to why protecting and conserving the Bay today will ensure its health and prosperity for future generations to enjoy.
When Dave is not on the job, he is happiest spending time with his family, supporting his daughters as they participate in various sporting events, spending time out on the water, and coaching hockey.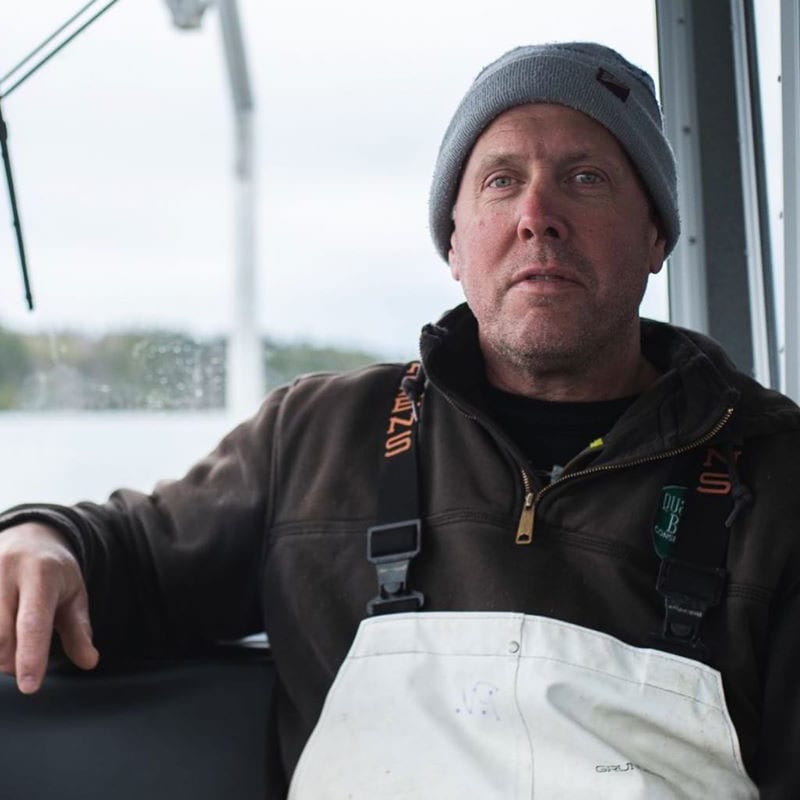 Peter Valente
Field Supervisor
Peter grew up in Cumberland, Maine, and made his connection to the ocean and commercial fishing early by digging clams and working for his father's business—A.L. Griffin—on the Portland waterfront until he enlisted in the U.S. Coast Guard shortly after high school.
Peter retired in October of 2013 as a Chief Warrant Officer (CWO4) after serving for more than 31 years; years filled with hard work, dedication, great fishing opportunities, and adventure. During his service, he earned countless certifications for boat-handling, seamanship, navigation, marine safety, and more.
Peter spent years on Coast Guard cutters—mostly buoy tenders and tug boats—where their primary mission was to aid navigation, clear waterways by breaking ice, search and rescue, and enforce maritime law. During the six years he was stationed in Honolulu, Hawaii, he traversed a significant portion of the Pacific Ocean between the Marshall Islands, American Samoa, and many other small island nations that lie in between.
Peter was later stationed in Portland, Oregon, where he worked to maintain navigational aids on the Columbia, Snake, and Willamette Rivers—a territory of more than 400 miles. During the final years of his service, Peter became a Marine Safety Officer, conducting vessel inspections and exams on watercrafts ranging from small passenger vessels to massive crude oil and liquefied natural gas carriers.
Following his military career, Peter found his way to Quahog Bay through a good friend who needed help shuttling employees to Snow Island to work on a construction project. Now a fulltime employee, his vision for the Conservancy is to grow it into a model for other organizations to follow while improving and growing the Conservancy's day-to-day operations.
Peter loves being outdoors, hunting, fishing, digging clams, and spending time with family and friends. He is passionate about his work protecting and restoring the bay, approaches each day with a positive attitude, and welcomes the opportunity to keep learning. He is dedicated to having a positive impact on one of the most beautiful regions of Maine.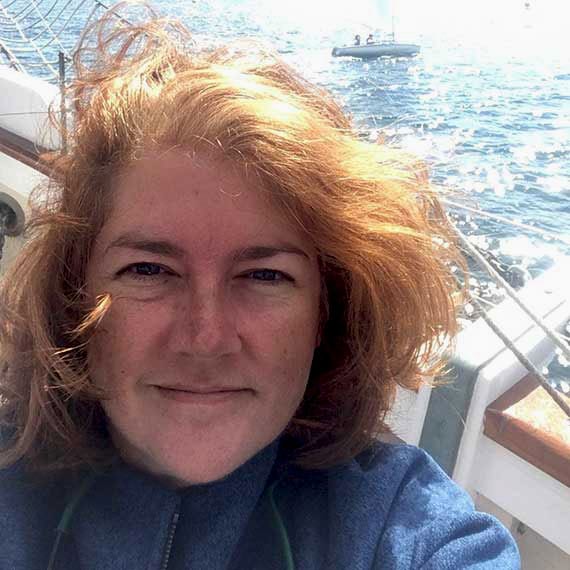 Darcie Couture
Consulting Marine Scientist
Darcie has always had a scientific curiosity about the outdoors, especially the marine environment, which she attributes to her upbringing on a lake in rural Maine. This background inspired her to pursue a Bachelor of Arts degree in Marine Biology from Southampton College in 1991, followed by a dual Master of Science degrees in Marine Biology and Marine Policy at the University of Maine at Orono. As a student, she developed an interest in fisheries biology and management with a focus on the intersection of science, biology, and socioeconomic drivers and their impact on marine life, especially shellfish.
Today Darcie is a Consulting Marine Scientist for the Quahog Bay Conservancy and the founder and lead scientist for Resource Access International, LLC, a private lab in Brunswick, Maine, dedicated to promoting sustainability in the seafood industry.
Over the last 20 years, Darcie has worked in the field of environmental science at Cosper Environmental Services, Northeast Laboratory, and the Maine Department of Marine Resources. In addition to her lab experience, Darcie has also worked as a crew member aboard several traditional-rig sailing school vessels, traveling all over the U.S. East Coast, Canadian Maritimes, the Caribbean, and parts of Europe.
All of these experiences have shaped Darcie's dedication to protecting our fragile coastal ecosystems against threats from overdevelopment, poor management, and pollution. She knows that Quahog Bay is a special place, almost lost to poor water quality and invasive species. Darcie hopes that QBC's efforts will ensure a healthy future for Quahog Bay and will serve as a model for other programs in bays and rivers that might be struggling with similar issues.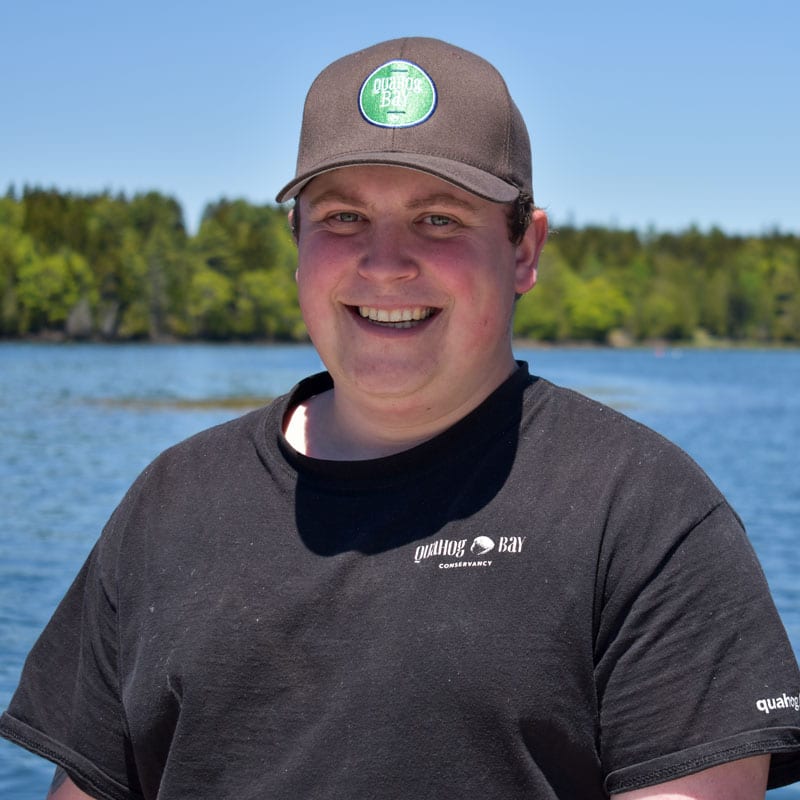 Alec Bollinger
Field Technician
It took just one fateful day out on the water with his uncle when Alec was 12 years old to spark a lifelong love for the ocean. On his 14th birthday, he received a wooden skiff and 100 traps and started lobstering. For the next seven years, Alec spent every day on the water, whether in his boat or out hauling with someone else. In 2015, Alec joined Quahog Bay Conservancy year-round for the opportunity to help preserve the marine habitat that his friends and family use for work and play. When he is not at work, you can find him at the Dairy Frost serving ice cream with his wife and daughters, Jolie and Charlotte.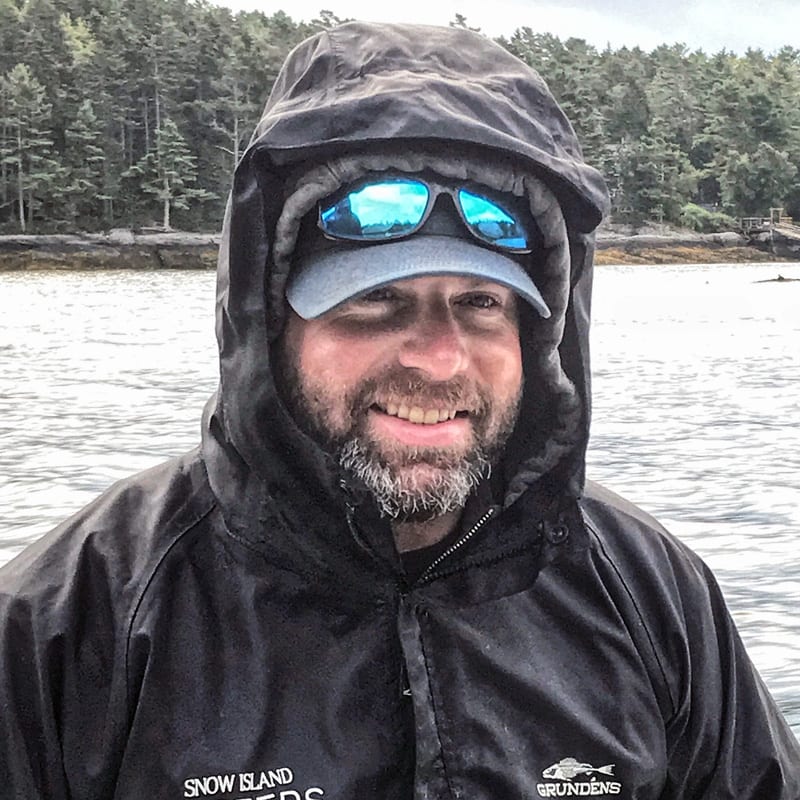 Donnie Foster
Field Technician
Donnie is the definition of a Maine man. Local to Harpswell, he has spent years part-time lobstering and working for an excavation company. He served six years in the armed forces, is an active fisherman and hunter, and most importantly, a proud family man. Donnie's professional skills, together with his strong work ethic, have increased the scale and scope of our organization's capacity for conservation. With his commitment to the bay and the surrounding community to inspire and motivate him, he plays a crucial role in all aspects of our programs, from welding oyster gear to collecting phytoplankton samples.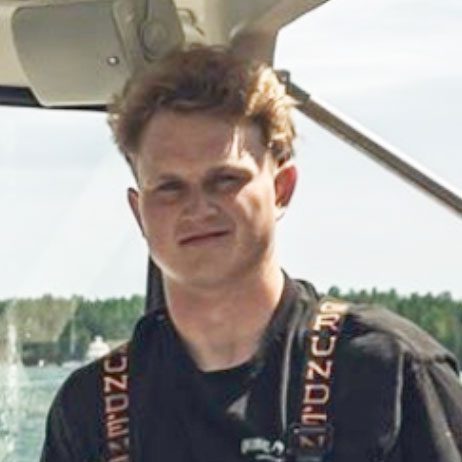 Tait Nygaard
Born and raised in the Midcoast area, Tait has always been an avid outdoorsman. From lobstering with his father, to hunting and fishing in northern Maine, he has had a love for the environment his entire life.
A recent graduate from the University of Maine at Orono with a Degree in Wildlife and Fisheries Ecology, Tait is hoping to use his education and the skills to contribute to helping the coastal ecosystem of Maine.
Tait grew up splitting his time between lobstering, working at his parents' restaurant, and being a 3-sport year-round athlete. During his sophomore year of college, Tait discovered Quahog Bay Conservancy through an internship opportunity. After three summers of working with us, he is now a full-time employee.
Outside of work Tait spends most of his time with friends and family. Usually enjoying the outdoors of the great state we live in by hunting/fishing, boating, or skiing.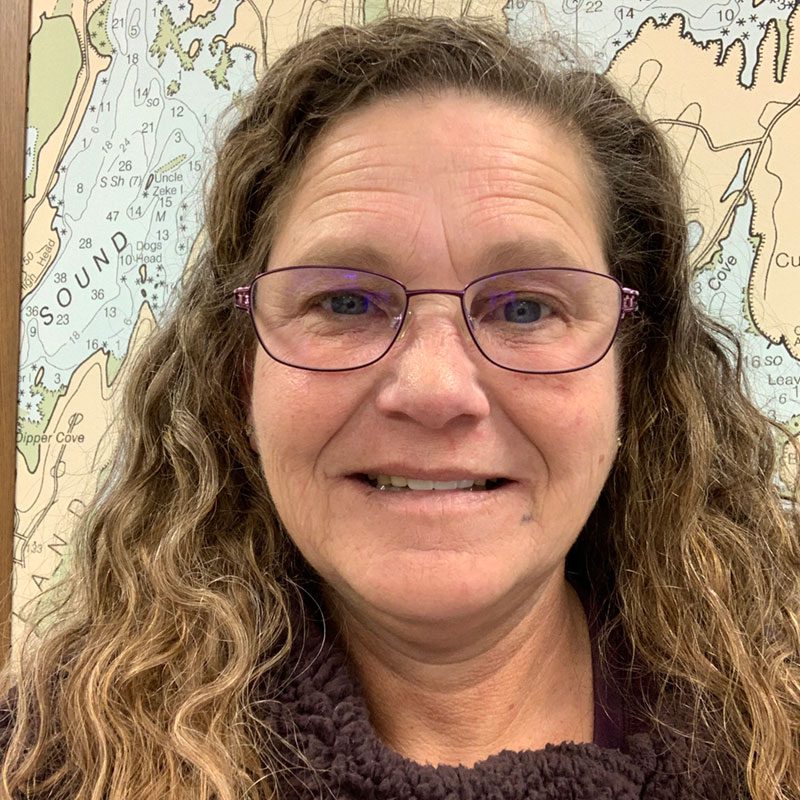 Stacy Welner
Marketing, Design, & Development Coordinator
Stacy was born in Winchester, Virginia and was raised as an Air Force brat traveling often and to various locations. Living in places such as Virginia, California, Turkey, New Mexico, Hawaii, North Carolina, Maryland, and Colorado. Traveling helped shape her fondness for learning.
Stacy graduated from Frostburg State University with a degree in Graphic Design and a minor in Business. Furthering her education, she became certified in WordPress and earned a certificate in Digital Media and Marketing from Duke University.
She met her husband, Jamie, at a best friend's wedding, after getting married they travelled to Colorado and North Carolina. Then decided to relocate to his hometown of Cundy's Harbor, Maine where they still reside.
Stacy's employment career has included being a check writer for the Air Force, sales coordinator team leader for a multi-million-dollar food service company, print shop graphic designer and bindery assistant, managing a local newspaper, composition and layout for books and manuals, to volunteer work for The Lobster Conservancy and Cundy's Harbor Volunteer Fire Department Auxiliary.
Stacy joined the Scanlan team as the seasonal Housekeeping Manager in 2016 and began full-time employment in 2020. With this came additional responsibilities involving graphic design, marketing, and fundraising for Quahog Bay Conservancy and Snow Island Oysters. Passionate about the environment, Stacy enjoys sharing the programs, benefits, and goals the QBC organization is all about.
When she's not working Stacy enjoys nature, observing wildlife, and outdoor activities including camping, hiking, boating, playing hockey, as well as spending time with family and friends.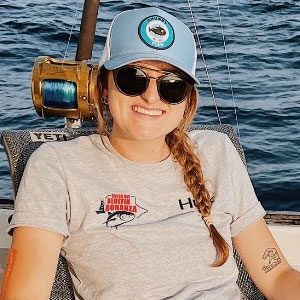 Isabelle Sée
Research & Program Coordinator
Isabelle was raised on the coast of Maine where she spent a lot of her time in boatyards with her father. As a captain and shipbuilder, he shared his adventure stories from around the world, sparking Isabelle's passion for the ocean. 
Isabelle pursued her interests through education at the University of Maine, Orono. She earned a Bachelor of Science degree in Marine Biology after completing her undergraduate research on the foraging ecology, age and growth of Atlantic albacore tuna. 
After graduating, Isabelle continued to contribute to the research of highly migratory species with the University of Maine Pelagic Fisheries Lab, located at the Gulf of Maine Research Institute. Isabelle worked with tropical and temperate tunas, marlins, and sharks, with a main focus on Atlantic bluefin tuna. 
She worked on a variety of grant funded projects involving foraging ecology, age and growth, origin identification, spatial distribution, genetic tagging, meat quality, and marketability of bluefin tuna. However, she most valued her time mentoring interns and working closely with the commercial fishery. 
Isabelle joined the QBC team in 2022 eager to support the research, conservation, and internship programs. In her free time she enjoys skiing, fly fishing, hiking with her dog, and cooking with her friends and family. 
The Quahog Bay Conservancy collaborates with other local organizations that are leading efforts to improve the environment and natural habitat in with an interest in improving the local environment. These include:
Make a Donation to QBC Today!