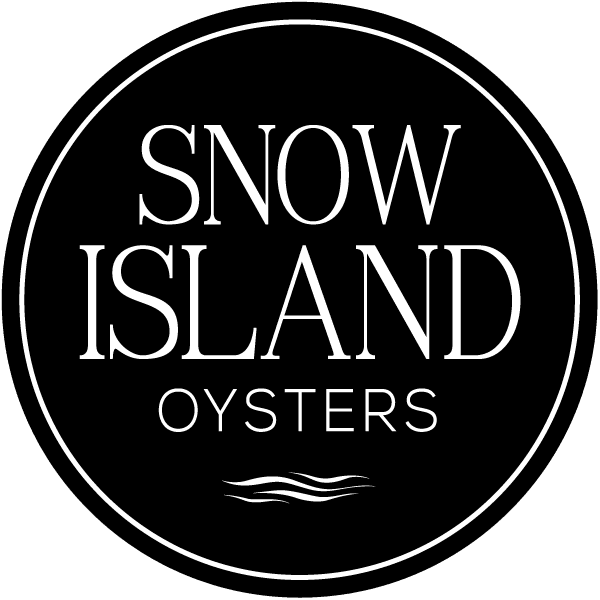 Our Bay.
Our Responsibility.
100% of the proceeds from Snow Island Oysters go to the Quahog Bay Conservancy to fund marine conservation, research, and education programs.
Sustainable Oyster Aquaculture. Give a Shuck!
When QBC was launched in 2015, water quality in Quahog Bay was so poor that the state of Maine had a long-standing ban on all shellfish harvesting within its boundaries. As a direct result of our conservation programs and cooperative work with the Maine Department of Marine Resources, that ban was lifted within one year. To further improve water quality in the bay. QBC next launched an ambitious oyster aquaculture program:
Oysters are filter feeders. By farming oysters in quantity, we have effectively installed a natural water treatment facility that cleans billions of gallons of seawater annually.
Our oysters live their life in floating cages. They grow by filtering the nutrient rich waters surrounding Snow Island and Dogs Head Island. It takes anywhere from 14 – 20 months for our oysters to reach a marketable size of 2.5 – 3 inches.
As the oysters grow, we sort and tumble them, flipping cages to cultivate the perfect oyster shell and prevent them from clumping together.
Once they reach market size, we harvest them. Then we sell them to local markets, restaurants, and seafood distributors under the name Snow Island Oysters.
100% of these sales go back to the conservancy to fund our programs, providing a sustainable revenue stream to fund our effective conservation initiatives. We believe this can be a national model for local organizations dedicated to environmental protection.
We are working with the Gulf of Maine Research Institute and Mook Sea Farm with the goal of becoming an entry-level demonstration farm for aspiring oyster aquaculturists.
Our aquaculture site is an educational resource available to local schools and students, supporting our goal to foster greater awareness of and interest in our planet's delicate ecosystems and the environmental challenges of our times.
Growing oysters is a delicate process. A hatchery grows the larvae. In about three weeks, the larvae go through what is known as settlement, the process by which a larva fuses itself to a tiny fragment of oyster shell. At this point, the tiny oyster is only 1.5 to 2 mm and is called a seed.
We buy our seeds from local Maine hatcheries, then sort them by size. If the seeds are under 10 mm, they go into to our upweller, a specialized tank system that functions like a nursery for infant oysters. The upweller's job is to help the oysters grow as fast as possible to a size that can be safely handled with a limited risk of mortality. It works by pumping fresh, nutrient-rich water up through a mesh screen on which the tiny oysters rest. The oysters filter the nutrients from the upwelling water, growing rapidly from just a couple of millimeters to a half-inch or more in about three weeks.
If the seed is larger than 10 mm, they are transferred to our lease site. These oysters go into small mesh bags, which are place in our floating cages around both Snow Island and Dogs Head Island. The oysters grow to 14 – 18mm and reach maturity. They are then sold to restaurants, markets, and seafood distributors.
Today we are growing 600,000+ oysters, with plans to increase to more than one million within a few years.
100% of the proceeds from the sale of our oysters are returned to QBC to fund our many programs to clean the bay.
Please ask for Snow Island Oysters at your favorite market or restaurant. We think you'll agree: being green never tasted so good!
Frequently Asked Questions
Is Snow Island Oysters a for-profit business?
No. Snow Island Oysters, otherwise known as Sustainable Oyster Aquaculture, is QBC's largest conservation initiative. QBC is a registered 501(c)(3) public nonprofit organization. The organization is sustained by a dual revenue stream: 
1) It raises money through philanthropic giving by individuals, private foundations, and government entities.
2) QBC grows hundreds of thousands of Snow Island Oysters yearly and sells them to restaurants and wholesale buyers, with 100% of proceeds reinvested in our conservation activities in Quahog Bay.
Where does the money from Snow Island Oysters go?
100% of the proceeds from the sale of Snow Island Oysters go to QBC programs that protect the ecological integrity of the bay on behalf of all communities that depend on it.
Are oysters safe to eat?
You can be confident that oysters are safe to eat if they come from a licensed aquaculture farm that follows the rules and regulations set by the State of Maine. Oyster aquaculture is the safest option for buying raw oysters, because all oyster farmers are required to participate in trainings for proper harvesting techniques.
If you choose to harvest on your own, or purchase wild caught oysters, it is important to know where and when shellfish are safe to collect and eat. Toxic shellfish can be found even in clear, clean, and remote waters. Toxic shellfish do not look or taste any different from non-toxic shellfish and toxins cannot be cooked out.
For updates on whether it is safe to harvest in a specific area, visit the State of Maine Department of Marine Resources website.
For more information on Maine Growing Area Closures visit: https://www.maine.gov/dmr/fisheries/shellfish/closures.
Safety is a top priority at Snow Island Oysters. We have certifications and operation protocols that follow strict regulations set by the State of Maine's Department of Marine Resources. We take extra steps by weekly testing of the water quality to monitor for risky levels of harmful algal blooms and bacteria that impact human health. When you eat Snow Island Oysters, you can feel good knowing that they are both delicious and safe to eat. Please see our oyster farm protocols that support your health below.
Consuming raw or undercooked meats, poultry, seafood, shellfish, or eggs may increase your risk of foodborne illness. If you have sensitivities to shellfish or to raw seafood, eating raw oysters may not be for you.
QBC's Oyster Protocols
Vibrio ControI Plan Requirements – The goal of a Vibrio Control or Vibrio Management Plan is to control the safety of molluscan shellfish for human consumption. Most Vibrios grow in shellfish and the rate of growth is dependent upon temperature. To minimize illness, these regulations include controls to limit exposure to warm temperatures. The controls begin at harvest and are applied at every level of processing and handling. All harvesters and certified shellfish dealers who take oysters and/or hard clams, buy or wet store oysters and/or hard clams shall submit to DMR a Vp harvest/purchase plan and participate in training provided by the DMR. Harvesters and shellfish dealers may not harvest, buy or wet store oysters or hard clams during the control months without a DMR approved harvest/purchase plan and training.
Harvest Time to Temperature Control at the Certified Dealer – The harvester must provide harvest records to the original shellfish dealer demonstrating compliance with the applicable time and temperature requirements. Harvesters have only two hours from time of harvest to deliver the product to the certified dealer when the ambient air temperature is above 80°F at any time during harvest. They have up to five hours to deliver the product if the air temperature stays below 80°F. The time harvest begins when the first shell-stock in a lot is taken from the water.
All oysters and hard clams shall be subject to shading immediately after harvest and adequately iced until delivery to a certified dealer. Conveyances used to hold and transport the iced product shall have adequate drainage so that shellfish cannot sit in standing water. Products harvested must be delivered to the certified dealer and remain adequately iced from harvest to delivery. Adequately iced means that the amount and application of ice is sufficient to ensure that immediate cooling begins and continues for all shell-stock in a container.
For more information about Department of Marine Resources Regulations, visit: maine.gov/dmr
For more information specifically addressing the concerns of Vibrio parahaemolyticus in oysters
and hard clams harvested, visit: DMR Regulation Chapter 115 Chapter115_04262022.pdf
Hungry for oysters? Got an event coming up? Want to serve our oysters in your restaurant? Buy our delicious Snow Island Oysters by calling (207) 522-1105 or email us at office@quahogbay.org.
Buy Snow Island Oysters from:
Quahog Bay Conservancy
286 Bethel Point Road
Harpswell, ME 04079
Phone: (207) 522-1105
Glidden Point Oyster Co.
637 River Road
Edgecomb, ME 04556
Phone: (207) 315-7066
Gurnet Trading Co.
602 Gurnet Road
Brunswick, ME 04011
Phone: (207) 729-7300
Hawkes Lobster
992 Cundy's Harbor Road
Harpswell, ME 04079
Phone: (207) 721-0472
100% of the proceeds from Snow Island Oysters go to Quahog Bay Conservancy's programs that protect the ecological integrity of the bay.
Shucking, Recipes, & More!
Farming technique: These oysters are nourished in the clean, cold waters surrounding Snow Island in Quahog Bay. Snow Island Oysters spend their lives protected in floating cages filtrating the rich nutrient flow of sweeping Atlantic tides. It takes 1.5 – 2 years for this pristine oyster to reach market size.
Flavor notes: Snow Island oysters combine a harmonious blend of briny earth tones, with a distinguished sweet after taste.
Snow Island Oysters will taste even sweeter, knowing that 100% of the sales go back to Quahog Bay Conservancy's efforts to revitalize the marine ecosystem.
The 6 S's of Pro Oyster Tasting
SEE: Feast with your eyes! Study the shell, shape, and color.
SMELL: Oysters should smell sea-breezy and sweet, not fishy at all.
SIP: Sip the oyster liquor to get a sense of the salinity.
SLURP: Shimmy the oyster meat loose, tilt the flat edge of the shell to your lips, and slurp! Don't discard the oyster liquor (it has a lot of flavor).
SAVOR: Chew a few times to get the full body taste; notice the progression from nose (salty) to body (sweet, flavorful) to finish (lingering aroma).
SHELL: Flip the shell over and admire the collaboration between nature and farmer.
Use the right tool
Get an oyster knife. Shuck on a flat surface. Use a glove or kitchen towel to protect your hand.
Start at the hinge
Shimmy the knife blade, pointed down, into the hinge until it feels secure. Twist/torque the knife, like turning a doorknob, to pop open the shell. Don't pry up and down.
Or try the side shuck
If the hinge is obscured or busted, push the tip of the blade into the right edge where the adductor muscle is attached.
Cut the adductor muscle
Slide the blade across the top inside shell to sever the adductor muscle. Remove top shell. Then slide your knife under the bottom adductor muscle to dislodge it entirely.
Do your best to make the oyster look clean
Shucking a clean oyster takes practice. One trick is to turn the oyster over in its shell so that the bottom belly is up. Remove all broken shell or grit with tip of your knife.
Grilled Oysters with Jalapeno-Herb Mignonette
Ingredients
1/3 cup rice vinegar
1 tablespoon freshly squeezed lime juice
20 oysters, scrubbed
1 teaspoon clover honey
2 tablespoons finely diced red onion
1 small jalapeno or serrano chile, seeded and finely diced
2 tablespoons finely chopped fresh chives
2 tablespoons finely chopped fresh cilantro
2 tablespoons finely chopped fresh tarragon
Kosher salt and freshly ground black pepper
Directions
1. Heat the grill to high for direct grilling.
2. Stir together the vinegar, lime juice, honey, onions, jalapeno, chopped herbs and some salt and pepper in a small bowl. Let sit at room temperature for at least 10 minutes to allow the flavors to meld.
3. Remove the tops of the oysters over a bowl, catching any of the oyster liquor that comes out. Add the liquid back to the bottom shell with the oyster. Put on the grill and grill until the liquid just begins to simmer but the oysters are still a little raw in the center, about 4 minutes. Carefully remove with tongs to a platter and top each oyster with a teaspoon of the mignonette.
Consumption of raw or undercooked eggs, shellfish and meat may increase the risk of foodborne illness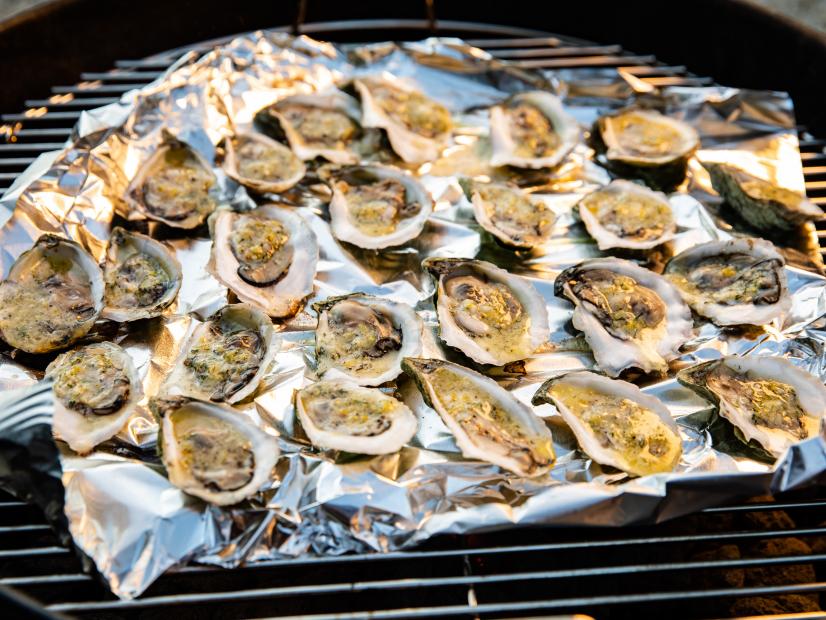 Grilled Oysters with Lemon Dill Butter
Ingredients
8 tablespoons (1 stick) unsalted butter, at room temperature
1 teaspoon minced garlic
1 teaspoon minced dill
1/2 teaspoon grated lemon zest
1 tablespoon freshly squeezed lemon juice
Kosher salt and freshly ground black pepper
24 large fresh oysters on the half shell
Sea salt or fleur de sel
Directions
1. Heat a charcoal or gas grill. If using charcoal, make sure you have a full layer of hot coals on the grate.
2. In the bowl of an electric mixer fitted with the paddle attachment, combine the butter, garlic, dill, lemon zest, lemon juice, 3/4 teaspoon kosher salt and 1/4 teaspoon pepper.
3. Place the oysters (oyster-side up!) on a platter. With two small spoons, place a small dollop (about 1 teaspoon) of the herbed butter on each oyster. Place lightly crinkled sheets of aluminum foil loosely on the grill grates. Place the oysters on the foil, making sure they're level so the butter doesn't spill out. (The foil keeps the oyster shells from tipping over.) Cover the grill with the lid, making sure the vents are open, and cook for 2 to 3 minutes, until the butter comes to a simmer and the oysters are just heated through. Sprinkle with sea salt and serve hot.
Consumption of raw or undercooked eggs, shellfish and meat may increase the risk of foodborne illness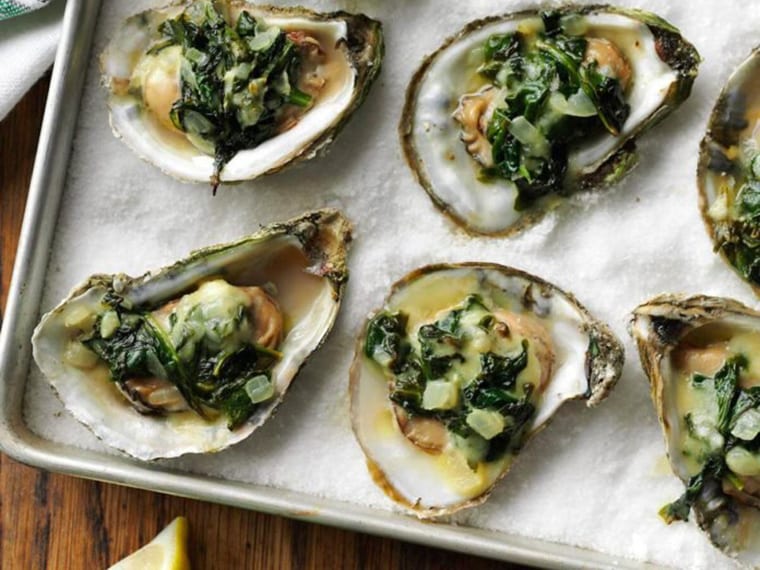 Oyster Rockefeller
Ingredients
4 tablespoons unsalted butter
2 garlic cloves, minced
1/3 cup bread crumbs, Panko preferred
2 shallots, chopped
2 cups chopped fresh spinach
1/4 cup Pernod
Salt and pepper, to taste
Dash red pepper sauce
2 tablespoons olive oil
1/4 cup grated Parmesan
1 tablespoon chopped chervil or parsley
2 dozen oysters, on the half shell
Rock salt
Lemon wedges, for garnish
Mignonette Sauce:
3/4 cup champagne vinegar
2 shallots, minced
2 tablespoons cracked black peppercorns
1 tablespoon chopped chervil
1/2 lemon, juiced
Directions
1. For the oysters: Melt butter in a skillet. Saute the garlic for 2 minutes to infuse the butter. Place the bread crumbs in a mixing bowl and add half the garlic butter, set aside. To the remaining garlic butter in the skillet, add shallots and spinach, cook for 3 minutes until the spinach wilts. Deglaze the pan with Pernod. Season with salt and pepper, add a dash of red pepper sauce. Allow the mixture to cook down for a few minutes. Finish off the bread crumbs by mixing in olive oil, Parmesan and chervil, season with salt and pepper. Spoon 1 heaping teaspoon of the spinach mixture on each oyster followed by a spoonful of the bread crumb mixture. Sprinkle a baking pan amply with rock salt. Arrange the oysters in the salt to steady them. Bake in a preheated 450 degree F oven for 10 to 15 minutes until golden. Serve with lemon wedges and red pepper sauce.
2. For the sauce: In a small bowl whisk together all ingredients. Cover and chill 1 hour before serving with oysters. Yield: 3/4 cup
Consumption of raw or undercooked eggs, shellfish and meat may increase the risk of foodborne illness
Make a Donation to QBC Today!